WELCOME to IJLESS

International Journal of Law, Education, Social and Sports Studies (IJLESS) is multidisciplinary, an open access, peer-reviewed and refereed journal published in Both Print & online by KY Publications, India. The main objective of IJLESS is to provide an intellectual platform for the international scholars. IJLESS aims to promote interdisciplinary studies in Law social science, sports and become the leading journal in law, humanities and social science in the world.
IJLESS Published quarterly (March, June, September, December)

IJLESS publishes original research papers, case studies, review papers, literature reviews, book reviews, conceptual framework, analytical and simulation models, technical note from researchers, academicians, professional, practitioners and students from all over the world.
Special Issues devoted to important topics in humanities and social science will occasionally be published.

Submit your article to editorijless@gmail.com or editorkypublications@gmail.com as an attached file with author name along with author photograph and covering letter .
---
---

Submission open for
VOLUME 7. ISSUE .2. 2020 (Apr-June)
Author

Article Information

Page No

NATIONAL SECURITY CONCERNS IN ARTICLE 355 OF THE CONSTITUTION OF INDIA AND THE NEW HORIZONS OF "EXTERNAL AGGRESSION": A CRITICAL APPRAISAL IN THE LIGHT OF THE JUDGMENT IN THE SARBANANDA SONOWAL CASE
Dr. VARSHA V DESHPANDE
Associate Professor
Dr Ambedkar College, Deekshabhoomi, Nagpur 440010
DOI: 10.33329/ijless.

7.2.1

1-1

1




French:

CONTRIBUTION SOCIOCULTURELLE DU MANDJA AU DEVELOPPEMENT DE LA SOCIETE TAGBANA
(English: SOCIOCULTURAL CONTRIBUTION OF MANDJA TO THE DEVELOPMENT OF TAGBANA SOCIETY)
KONÉ Nagnintaha Isabelle1, EKRA Jean Théophile2
1Docteur en Art, Culture et Développement, Institut Régional d'Enseignement Supérieur et de Recherche en Développement Culturel (IRES-RDEC) Lomé-Togo BP : 3253
2Doctorant à l'Institut des Sciences Anthropologiques de Développement (ISAD),
Université Félix Houphouët-Boigny d'Abidjan/ Côte d'Ivoire.
DOI: 10.33329/ijless.

7.2.12

1

2

-

24



EXPERIENCING REALITY: GAMIFICATION CULTURE IN SOCIAL
MEDIA
APARNA PRASAD
Ph. D Research Scholar. Dept. of English & Centre for Research.
St. Teresa's College, Ernakulam, Kerala
DOI: 10.33329/ijless.

7.2.25

25

-

30




Remaining Articles will be uploaded very shortly
You must do the following in Covering letter during the Submission of article :
You must give the declaration as to the authenticity of the work that you submit. This declaration should state that your article or work submitted for publication in KY Publications.com Journals is an original work by you and that you have duly acknowledged the work or works of others you either cited or used in writing your articles, etc.
A model covering letter

This is to certify that the article ……. submitted for publication in KY Publications Journals is an original work by me/us based on my/our research, that I/we have duly acknowledged in the said paper the work or works of others I/we used in writing this article, that I/we have duly cited all such work/s in the text as well as in the list of references, and that I/we have presented within quotes all the original sentences and phrases, etc. taken from the sources that I/we have consulted in writing this article.
I/we further declare that the paper submitted for publication in KY Publications Journals has not been previously published, is not currently submitted for review to any other journal, and will not be submitted elsewhere before a decision is made by this journal.
I/we also declare that I/we will pay the publication fee for the article (specified in the Guidelines) as and when my paper is accepted for publication in KY Publications Journals
IJLESS publishes super express papers (within 72 hours) on conditional basis

Scope of the journal (Subject areas suitable for publication include, but are not limited to the following fields)
Law: Intellectual Property (IP) Law; Trademarks Law; Copyright Law; R&D and innovation in high-tech; Open standards and entrepreneurship; Competition in two-sided markets; High-tech and anti-trust policy; The Internet Search; Law of common areas; Labour Law; Environmental and Energy Law; Human Rights/Civil Liberty; Corporate Finance Law; Taxation Law; Public Law Fundamentals; Transport Law; Tourism Law; Immigration Law; Criminal Law; International Economics and Trade Law; Public Contract Law; Law of International Regulations; Media Law and all related fields
EDUCATION [PHYSICAL, TEACHER, AND RELATED FIELDS]: LIBRARY SCIENCE AND INFORMATION TECHNOLOGY, PSYCHOLOGY AND ADULT EDUCATION, SOCIAL SCIENCE
Humanities and social Studies: anthropology, corporate governance, criminology, cross-cultural studies, demography, development studies, economics, education, ethics, geography, history, industrial relations, information science, international relations, library science, media studies, methodology, philosophy, political science, population Studies, psychology, public administration, sociology, social welfare, paralegal, performing arts (music, theatre & dance), religious studies, visual arts, women studies, PUBLIC ADMINISTRATION, POLITICAL SCIENCES, HISTORY, ENVIRONMENTAL EDUCATION, HUMAN RESOURCE MANAGEMENT etc.,
Sport Studies: Natural Sciences of Sport, Social and Behavioral Sciences and Humanities, Sport Management, Sports Medicine, Sport Pedagogy, Sport etc.,
IJLESS Highlights
Country of Publication: India
Publisher: KY Publications
ISSN: 2455-0418 (Print),ISSN: 2394-9724 (online)
Frequency: Quarterly
Publication Dates: March, June, September, December
Language: English, French
Format: Online and Print
Scope: Law, Education, Social science, Sport science and Multi-disciplinary
Author Fees: Yes
Open Access: Yes
Refereed: Yes
Abstracted: Yes
Indexed: Yes
Open Access :CC-BY
Policy: Peer Reviewed
Submission as an attachment along with covering letter to E-mail: editorijless@gmail.com or editorkypublications@gmail.com
Publication Charge
IJLESS is an initiative to provide International Platform for quality research papers. We cover the costs partially through article processing fees. Our expenses are split among editorial costs, electronic composition and production, journal information system, manuscript management system, electronic archiving, overhead expenses, and administrative costs. Moreover, we must cover the costs of publishing the accepted article plus the cost of reviewing articles the journal reject.
Research Article, Review & Short Communications: 1800 Rs for Indian Authors, 85 US$
Super Express Papers: 2500 Rs (Online Only) for Indian Authors,100US$ for Others (Published within 72 hours)

Printed copy (Single) : 750Rs/45US$

https://doi.org/10.33329

Submission Open for
Vol.

7

.Issue.

2.2020


(

Apr-June

Issue)


Review reprot within 3 working days




Impact Factor

6.0176


International Citation Impact factor


IJELSS is in The UGC list (From May 2017 to Dec 2018 only)
click here
for more information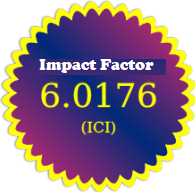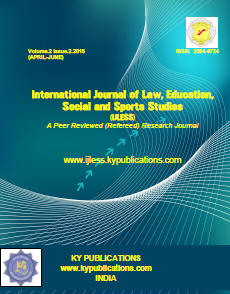 Publish Your Thesis/Dissertation/Project/Seminar Proceedings with ISBN within 10 working days-One time Publication fee :10000Rs/200 US$*
*conditions apply
(Three B/W printed books will be provided with free of cost)
-For More details please contact editorkypublications@gmail.com
---
Key Words:Social Science Journal, Sports Journal, Social Studies Journal, International journal of Law,
Indian Journal of Law,Indian Journal of Social Science, Indian Journal of Sports studies, Indian Journal of Education, International Journal of Education, Education Journal, Print Journal, Online Journal